"Doing the Right Thing" are not just words on paper or a feel-good statement. Doing the Right Thing is a way of life for every member of our team. At Business Brokerage Services, we value, teach, and practice honesty, transparency, ethics, duty, honor, conscience, good faith, and discretion – not only for ourselves, but for our clients and their interests.
"Ownership" We all fail and make mistakes. Own them! Together with our clients and our team, we learn from our experiences and to grow from within. Mistakes are only wrong if you don't learn from them. Wisdom, improvement, knowledge and forgiveness are all achievable if we embrace our failures and aim towards success!
"Investing In Growth" Personal and professional growth is important to us and we strive for it in everything we do. We believe the work / life balance is important for health, wealth, and family. At Business Brokerage Services, we aim to better your life through the business transaction we are embarking on and will do all we can to help you achieve it.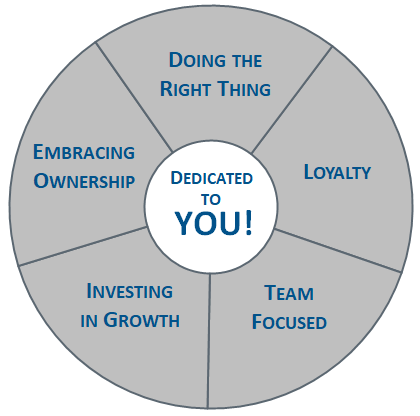 "Loyalty" is an action of commitment and devotion that is given to something or someone. Our team is loyal to putting your interests above ours. We consistently earn your trust with our motto of service above self.
"Team Focused" At Business Brokerage Services, we believe "If you want to go fast, go alone. If you want to go far, go together." With our Team Focused approach, we go farther and do better with the help and cooperation of our buyers and our sellers.
Greg Sosville was raised in a family that taught and valued "climbing the corporate ladder" for success. Greg initially started down this path after graduating from college, but quickly bucked the trend and became an entrepreneur at a young age. After becoming disenfranchised with the corporate world, Greg started an internet company and a large ATM route that spanned several states. Greg sold both businesses and started Business Brokerage Services in 2003.
In 2014, Michael Nuanes was introduced to Greg by serendipitous good fortune. At that time, Michael was frustrated and tired of owning his small business and simply wanted a change. Michael had no idea how to sell his business or who to sell it to. In fact, Michael did not know that business brokers existed. Greg helped Michael sell his business and while doing so, the two formed a friendship and bond that neither could have envisioned.

After forming a partnership, both Michael and Greg set off on a path to make Business Brokerage Services the premier business brokerage in Colorado. With different styles, and different approaches, Business Brokerage Services has grown from two independent brokers to a team of brokers and support staff that focus on the Buyers and Sellers they are assisting. Since the beginning, over one thousand business have been bought and sold with help from our team. The brokerage is most proud of the fact that 80 percent of their business are repeat or referral customers.